Set Up Occupational Health Testing
Occupational health and safety services are available at Leduc Safety Services
It's not a hassle to book and track the reliable testing you need for your regulatory compliance and to support the safe, healthy workforce that powers your business.
Staff from our parent company Safety Coordination Services now provide testing at our Leduc facility by appointment on Wednesdays. These are the testing options available: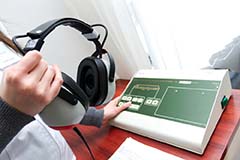 Call 780-485-3585 or e-mail OHD@safetycoordination.com to book an OHS testing appointment for any Wednesday at our Leduc facility.
Can't wait for a Wednesday appointment? Visit our Edmonton facility at Safety Coordination Services! We offer daily testing availability there and are located conveniently just off the Henday and Sherwood Park Freeway.
Your place or ours?
If your workers aren't in the Edmonton or Leduc regions where our testing facilities are located or you'd just like to avoid employee downtime from travel, we are happy to arrange mobile testing to your own work site or facility for your staff.
​Just reach out to our testing coordinator with your details, and we will take care of all the arrangements for our certified staff to travel to your location on a suitable date. We offer all the same tests in our mobile unit as we offer in our facilities.
Click the button below to let us know the tests required and date(s) you are interested in.